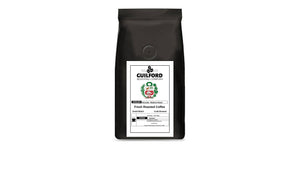 Peruvian Single Origin
Sale price Price $15.98 Regular price
Our Peruvian coffee is a medium roast with chocolate and nut flavors. It has a mild acidity, great for sensitive coffee drinkers, and a sweet finish. One of our most popular single origin coffees and best gourmet coffees that should be a staple in every pantry.
The enormous expanse of the Brazilian rainforest tumbles from mountainous heights to deliver the most exceptional of coffees, ripe with the flavours of wild nuts. This lavish cup will satisfy all your senses.
Certification/Grading: FT, Organic
Roast: Medium
Tasting Profile: Salted caramel, silky sweet, citrus
Grower: Cooperativa Agricola de Servicisios Norandino
Variety: Caturra, Bourpon, Catuai, Pache, & Catimor
Region: Piura, Amazonas, Peru
Altitude: 1100-1700 M
Soil Type: Clay Minerals
Process: Gully washed and dried in the sun.