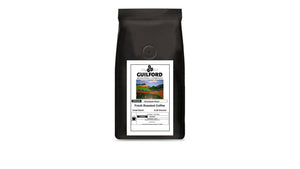 Nicaraguan Roast
Sale price Price $15.98 Regular price
 Finca Los Pinos is a group of family farms totaling 55 HA of coffee run by Byron Corrales.  He is well known in the region for great coffee and a passion for the farm.  
The farm is organic and is combined with forested areas to improve water retention and bean quality.  It has a comprehensive water management and fertilization system that uses coffee waste, manure from the farm's cows and locally sourced minerals as micro-nutrients.
​
The average annual production is 7 containers and we were lucky enough to secure this lot for our coffee!!!!
Cupping Notes:  bright acidity, rich body, black cherry, blueberry, brown butter.  Nice Complexity.
Origin: Nicaragua -Finca Los Pinos
Region: Matagalpa, El Arenal Nature Reserve
Altitude: 1350-1450 M
Processing:  Full Natural, Sun Dried on Raised Beds
Varietals: Caturra, Lembra, Sarchimor
Certs: Organic
Roast Level: Medium
NOW AVAILABLE IN COMPOST BAG