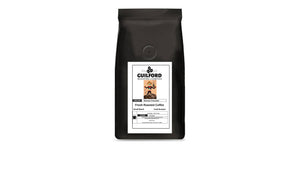 Mexican Chocolate
Sale price Price $16.98 Regular price
Roast: Medium
Mexican chocolate is not your average chocolate. Like traditional Mexican Chocolate, this coffee combines notes of dark chocolate with hints of cinnamon and milk. When ordering a hot chocolate ("chocolate caliente") in Mexico it will most likely be a rich, frothy chocolate with a hint of cinnamon. The mollinio is used to stir the chocolatey mixture. Our Mexican Chocolate coffee has the same rich chocolate flavor with just a hint of cinnamon. Delicioso!
This smooth coffee has hints of chocolate, cinnamon and vanilla.  Delicious on it's own or exceptional as an after dinner cordial with the Tequila or Kahlua.
All of our flavored coffees start as specialty grade single origin coffee roasted in small batches to a smooth medium. Each order is then carefully flavored with high quality flavoring oils while still warm. 
*Natural and Artificial Flavoring