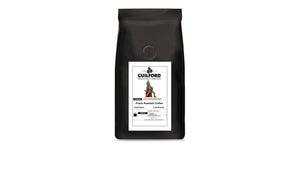 Tecun Uman Guatemala Roast
Sale price Price $15.98 Regular price
We dedicated this coffee  to Tecun Uman one of the last rulers of the K'iche' Maya people, in the Highlands of what is now Guatemala. 
According to the Kaqchikel annals, he was slain by Spanish conquistador Pedro de Alvarado while waging battle against the Spanish and their allies on the approach to Quetzaltenango. 
=======================================================
REGION: Huehuetenango 
 FARM: Single Estate 
We are proud to be one of a few Roaster that are supplied by Mario Sosa.
​Mario Roberto Sosa was born in 1927 and began working at the age of 12. When he was 20, he purchased a truck and started a local transportation business before marrying Raquel Lopez and raising 7 sons. 
Mario and Raquel began growing coffee in 1966 and in 1972 established Los Laureles II. They planted the farm with traditional cultivars for the area- Pache, Caturra, and Bourbon. Maragogype and Gesha were added and most recently, Anacafe and Marsellesa have been planted alongside avocado. These crops have unique flavor and characteristics which means a more diverse range of buyers interested in the coffee. 
At 95, Mario is still very much on the farm, supervising the care of the trees and the harvest with the support of his sons. 
​
CUPPING NOTES: Green Apple, Lemon, Milk Chocolate, Nougat, Roasted Almond, Toffee, and Vanilla. 
​
Score: 83.67