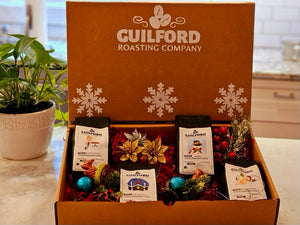 Four coffee Christmas Box
Sale price Price $64.99 Regular price
Christmas Coffee Gift Box is the perfect present for the coffee lover in your life. This gift box includes four bags of our finest coffee blended just for the holiday.
Prancer's Peppermint: 

Beans from Costa Rica that are freshly roasted to absolute perfection before being infused with the invigorating flavor of oil peppermint while the beans are still warm.

Santa Helper Vanilla/Hazelnut:  

You'll love waking up to Vanilla Hazelnut. This medium roast boasts a smooth, creamy medium body with flavors of caramel, vanilla, and hazelnut, finished with a deep, nutty aroma.

Snow Day: 

This delightful Snow Day Blend Coffee has a rich, smooth flavor. It perfectly balances the overall flavor to create sweet spices and berry notes. 

Ugly Sweater Mocha: 

A balanced and sumptuous blend of coffee with cocoa flavor that offers a luscious coffee experience. The rich cocoa and coffee aroma sweeps you into a sidewalk Italian cafe.
Each bag contains our high-quality coffee beans, roasted to perfection for unmatched flavor and aroma. The gift box itself is beautifully designed with a holiday theme, making it a perfect addition to any Christmas celebration.
Order now and give the gift of delicious coffee this holiday season!