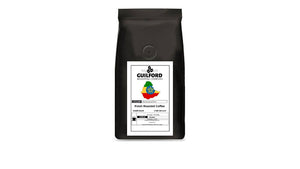 Ethiopia Natural
Sale price Price $15.98 Regular price
 The region where Sidama coffee is collected is fertile and suitable for coffee tree development.
The ripening process in Sidama is carried out more slowly and at a lower temperature than in other parts of Ethiopia, resulting in a sweet flavor and an acidic, fruity fragrance.  So, its harvesting season is later than the other coffees in Ethiopia.
The long ripening process helps these cherries adapt to the various fragrances, quality, and characteristics of Sidama coffee which are the most special aspects of Sidama coffee.
Sidama coffee wins this round if you're seeking a coffee with a delicate lemon and bergamot aroma. It is a grade two coffee because it has a natural spice and excellent acidity.
Certification/Grading: Natural
Roast: Med-light
Tasting Profile: Milk chocolate, fruity, caramel
Grower: Smallholder farmers from thee Sidama zone.
Variety: Indigenous Heirloom Cultivars
Region: Sidama Zone, Ethiopia
Altitude: 1700-1900 M
Soil Type: Nitisols
Process: Full natural, sorted by hand.  Dried on raised beds.