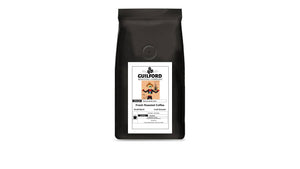 Mexican Mundo Novo
Sale price Price $16.98 Regular price
From the striking aromas and flavors of the Mundo Novo specialty bean this coffee is valued by connoisseurs of coffee worldwide, not just in the traditional consumption but also for its espresso and liquor-based beverages. The natural Mundo Novo variety presents notes of caramel, pepper dark chocolate and has major evidence of floral and citric flavors. Also, in Pulped Natural the Mundo Novo beans reference flavors of apple, cinnamon, and caramel along with the dark chocolate.
Certification/Grading: EP, Organic
Roast: Medium
Tasting Profile: Chocolate, cinnamon, green apple.
Grower: Coffee growers from Chiapas and Oaxaca 
Variety: Typica, Criollo, Bourbon, Mundo Novo, Caturra
Region: Chipias and Oaxaca, Mexico
Altitude: 900-1000 M
Soil Type: Clay Minerals
Process: Fully washed and sun dried.