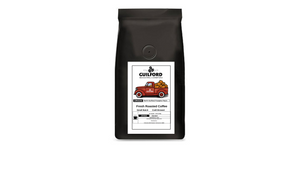 North Guilford Pumpkin Patch
Sale price Price $15.98 Regular price
Roast: Medium
North Guilford Pumpkin Patch provides seasonal flavors of pumpkin spice and nutmeg. A delicious, all-hallowed pumpkin taste enamors the senses with notes of an autumn breeze and Grandmother's homemade Thanksgiving pumpkin pie.
This seasonal favorite is made with all natural flavoring has hints of pumpkin, cinnamon and nutmeg combined with a deep medium roast arabica coffee.  
All of our flavored coffees start as specialty grade single origin coffee roasted in small batches to a smooth medium. Each order is then carefully flavored with high quality flavoring oils while still warm. 
*All Natural Flavoring